Turn Heads in the Right Direction: Marketing with Magnetic Car Signs
Turn Heads in the Right Direction: Marketing with Magnetic Car Signs
Magnetic car signs are the perfect way to reach a broad cross-section of people in a short amount of time and at an affordable price. Just think of all the cars you look at while waiting for a stoplight to turn green—and imagine having a traveling billboard for your company in the next lane.
If you're looking for an affordable and effective way to market your business and you're not ready to go all in on a custom car wrap, magnetic car signs are the ideal solution.
So, let's talk about the benefits of magnetic car signs, what businesses should consider when designing a sign, and how to bring your design to life. 
Six Benefits of Magnetic Car Signs
Increased Brand Recognition
Magnetic car signs are highly visible — and mobile. People who see your business name and logo on signs all over town will be more likely to remember it. As PT Barnum said, "a buyer needs to see your brand name nine times before they trust you." Putting your brand on the side of your car can quickly develop that local awareness and keep your business top of mind. 
Easy to Apply, Remove, and Update
Because you can apply and remove magnetic car signs as needed, you can transform any vehicle into a moving advertisement for your company without committing to a vinyl vehicle wrap or permanent paint job. If you need to change some info or update the design, it's easy and cost-effective to order replacements.
Weather Durable
We print magnetic car signs on durable material meant to withstand all kinds of weather. They won't degrade even in high heat, extreme cold, or wet conditions and they'll keep sticking to your vehicle (provided it's a ferrous metal). 
Cost-Efficient
Magnetic car signs are an affordable marketing solution for small businesses and one of the best ways to get your brand in front of a large number of people without breaking the bank. You can order high-quality magnetic car signs for a tiny fraction of the cost of other marketing methods, such as print media, billboards, broadcast advertising, or a custom vehicle wrap.
Versatile
Magnetic car signs remove easily, meaning you can move them between vehicles as needed.  While intended for outdoor use, you can apply them to any indoor large ferrous metal surface (such as a refrigerator or tool cabinet). 
Professional Image
Most small businesses can't afford a fleet of company vehicles. Magnetic car signs turn any vehicle into a professional-looking company car or truck, promoting customer confidence while you're on site. 
What to Consider When Designing Magnetic Car Signs
Before you dive into designing your magnetic car signs, there are a few things to consider. 
Use Strong Visuals
People are more likely to remember a sign with strong visuals. Use bright colors and an eye-catching design. If you have a great logo, make it a prominent feature on your sign.
Font Choices and Size
You want potential customers to read your sign easily from a distance and possibly while the car is moving. Use a large, bold font, and avoid using fancy or stylized lettering, as it can be hard to read. Avoid small text and fine print when at all possible. 
Psychology Behind Design Color
There is a ton of research behind color psychology. Certain colors evoke a specific feeling or mood and can effortlessly set the tone for your brand. For example:
Black denotes luxury and exclusivity.

White is clean, pure, and peaceful and is frequently used for wellness brands.

Red is exciting, urgent, and passionate.

Purple is distinctly royal and wise.

Blue is calm, easy-breezy, and peaceful.

Green evokes nature and is often used for eco-friendly brands.

Orange is joyful, exuberant, and energetic.

Yellow is cheerful and optimistic.

Brown represents a down-to-earth, nurturing, and safe vibe.
Local Bylaws
Before designing your magnetic car signs, be sure to check local bylaws to see if there are any restrictions against using and displaying them. Your smart, inexpensive marketing initiative could become a nightmare if you end up on the wrong end of the law. 
Some states or municipalities view any vehicle signage as an indication of commercial use, so you must register and insure your car accordingly. If these laws apply in your region and you have advertising on a personal vehicle, you may receive a traffic ticket.
Keep it Simple
Your magnetic car sign should be easy to read and understand. Remember that the vehicle may be in motion, so you want to ensure people who see it can read it too. Use short, simple phrases or sentences that get straight to the point. Ideally, a magnetic car sign should have your company name, logo, a phone number, and if your company names doesn't indicate what you do, add a brief tagline that explains your business.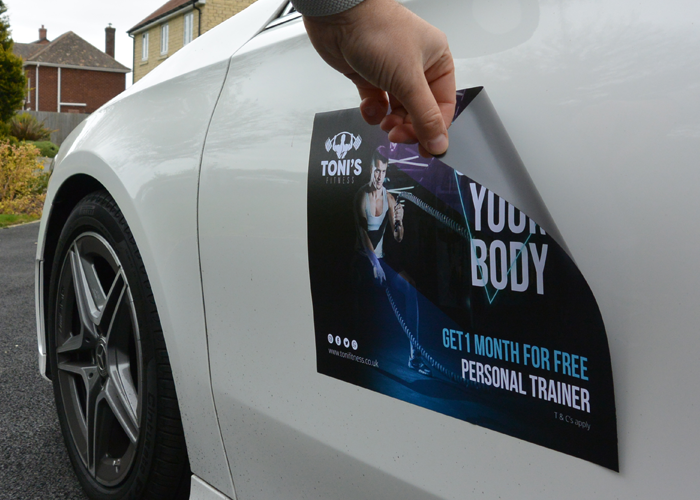 Design Your Next Magnetic Car Sign with Stomp
Now that you know all the features and benefits of magnetic car signs, it's time to start designing. Stomp's online design tool and templates are user-friendly and simple enough that just about anyone can achieve a spectacular result. Even if you don't have any previous design experience, it's easy to get your signs print-ready in just a few clicks. Our in-house print experts are always available to help if you have questions.
We offer four sizes of magnetic car signs to outfit your cars, trucks, vans, or SUVs. You can order as few as two magnetic car signs or 100 or more to suit your needs. With some of the fastest turnarounds in the business, your vehicle signage will be the talk of the town in no time. 
We print our magnetic signs using durable inks formulated for outdoor use to hold their color and integrity if cared for properly. 
Here are a few tips to extend the life and value of your magnetic signs:
Surface Prep:
The surface paint, clear coat, or waxes should be completely cured and hardened

Clean the metal surface and magnet with mild detergent

Wipe both with a soft cloth and allow to dry completely

To apply, let one edge of the magnet contact the surface in the desired position, then carefully lower the rest of the magnet in place

Ensure the magnet makes complete contact with the surface leaving no air pockets

Simply lift and start again to reposition or remove air pockets
Care and Maintenance:
Remove the magnet at regular intervals to maintain the proper bond and clean the vehicle surface
Clean with mild detergent and dry completely with a soft cloth
Do not crease or fold your signs - store flat or in a 3" diameter roll with the print side facing out
Avoid temperatures exceeding 160° F or below -15° F
Do not place signs on horizontal surfaces (like the hood or trunk)
Discover our collection of magnetic car signs and start designing yours today!