Design Inspiration: 15 Beer Labels That Raise the Bar
Design Inspiration: 15 Beer Labels That Raise the Bar
You're not supposed to judge a book by its cover, but we all do it — especially when it comes to food and drink labels. Sure, what's on the inside counts. But the exterior of a beer bottle is just as important as the drink inside. 
Recently, breweries have been getting pretty creative with their branding, designs, and customized beer labels. In a market as competitive as this one, you need to make sure you don't fall behind and get passed over at the liquor store. To give you some inspiration for developing a product that will attract attention, we've compiled a list of the top 15 beer bottle labels we think make a massive impression. 
Keep on scrolling and get inspired for your next customized beer can label design. 
The Importance of Unique Beer Label Designs
When there are 99 bottles of beer on the shelf, standing out with a unique label is of the utmost importance. There are so many choices for today's consumers. While variety is the spice of life, too many decisions can also make it more difficult for customers to choose a brew. 
So, why not make it easier for them with branding that begs to be noticed? Plus, designing an impressive, customized beer bottle label makes your product pop off the shelf and into the customer's cart. 
Take these beer label design stats, for instance:
Roughly 27% of consumers purchase craft beers based on the label alone 

Appealing, descriptive label designs directly influenced 31% of surveyed consumers to buy

Up to 30% of consumers want to see familiar terms and descriptors on beer labels
No matter how you slice it, labels are a hugely important factor in getting potential buyers to try your brew, and it's then the taste that keeps them coming back for more. So, if you want to increase your customer base, a customized beer label that's descriptive and enticing is how to do it. 
Let's drink to your inspiration. Bottoms up!
#1. Kiuchi Brewery 
A legacy brand, Kiuchi started making sake in 1823 before dipping its proverbial toes into the beer-brewing game in 1966. While the brand has been around for almost 200 years, we love its current face of customized beer labels. 
Kiuchi's signature series, Hitachino Nest beers, feature the brand's mascot, a red owl. The owl makes the bottles easy to see on a shelf, and the distinct Japanese names in the series — Red Rice Ale, Nipponia, Ginger Ale, etc. — entice beer drinkers to buy and try, according to Toshiyuki Kiuchi, the brewery's owner. 
#2. Uinta Brewing Company 
We like Uinta Brewing Company's beer labels for two reasons:
Their vintage, Colorado aesthetic 

The detail and depth
To help stand out on the store shelves, Uinta Brewing hired a small, creative design firm called The Tenfold Collective to take their brand from drab to vintage-inspired fab. 
We love the attention to detail in these labels as they inspire shoppers to take a closer look. Plus, the labels harken back to travel posters from the 50s and 60s, which is on-brand for a craft brewery in Colorado. 
Also, did you notice the compass on the bottle? Nice touch, right?  
#3. Huyghe Brewery
These beer bottles are simply top-shelf fun, but they don't make the label do all the heavy lifting.
The signature pink elephant mascot, matching bottle cap, and the double-vision font burbling delirium are the perfect design choices. Its vibrant design displays appealing branding and their mascot is a nice callback to an old euphemism about seeing pink elephants.
#4. Stone Brewing Company
Stone Brewing's labels take strong branding to the next level with distinctive artwork and copywriting. The labels look like the lovechild of the Arts and Crafts movement and the high fantasy genre. 
Check out the description written on bottles of Arrogant Bastard Ale:
"Brought forth upon an unsuspecting public in 1997, Arrogant Bastard Ale openly challenged the tyrannical overlords who were brazenly attempting to keep Americans chained in the shackles of poor taste."
Epic indeed!
#5. And Union
A German brand, And Union Brewery takes a minimalist, back-to-basics approach with its custom labels. The bright colors do the heavy lifting to catch shoppers' eyes. The bold colors and lack of imagery can cut a strong figure on an otherwise crowded store shelf amongst much busier brands. If a store carries And Union, you'll see it as soon as you turn down the aisle.
If minimalism is the name of the game for your craft beer brand, allow And Union to inspire your next design. 
#6. Big Drop Brewing Company
It's non-alcoholic, but that doesn't mean you can't have fun — especially when looking at the label. 
The design is on-point for the brand name. It's almost hypnotic – reeling you in for a non-alcoholic treat. Plus, the can's top matching the rest of the branding is really impressive. 
#7. Campervan Brewery
 Summertime calls for an ice-cold, refreshing beer. Campervan beer label designs whisper summer, cool, and refreshing with groovy pastels and retro patterns. 
Instead of a bright shiny aluminum screaming out from behind the cool labels, the Campervan Brewery has opted for a dustier, softer sheen. While many breweries go for bolder designs, Campervan's choice to stick to calming shades and a quieter aesthetic stays true to the brand's values and personality. 
#8. Cisco Brewers
We love Cisco Brewers' antique-inspired, straightforward designs. The clean, conservative labels each have a single color scheme against an ivory backdrop and black font, giving the labels an antique feel reminiscent of an 18th-century woodcut. Even the slightly offset border adds a lot of character to these bottles.
The company is located on Nantucket Island, and the bottle's aesthetic fits that minimalist, old-timey look the area is renowned for. 
#9. Flying Dog 
Intricate and wild, Flying Dog beer labels are simply fun chaos. Featuring the work of famous artist Ralph Steadman (of Hunter S. Thompson fame), these hand-drawn designs are memorable and immediately stand out when carefully browsing through the shelves. 
If you want to communicate to your target customers that it's a-okay to get their carousing on, let Flying Dog's wacky, weird, and slightly disturbing labels inspire your design. 
#10. Pliny the Elder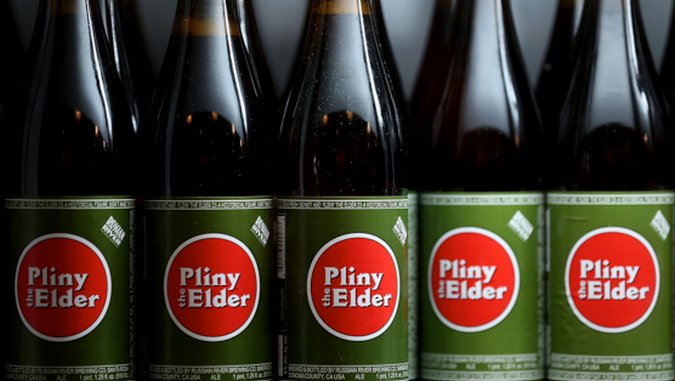 Think your beer is so good that you don't need a flashy label? Take a gander at Pliny the Elder, a beer that takes the idea of counter-intuitive design and runs with it… all the way to the best beer in the world award. 
Yes, this plain, almost uninspiring-looking beer bottle contains the best brew in the world — even though the design looks like an obscure off-brand. But do take note of what it does well. The olive label contrasts well with the brown bottle. The logo itself, while simple, has a little complexity in the font choice and placement of the sideways "the."
It goes to show that you don't necessarily need flashy graphics, cartoons, or other bells and whistles to deliver a memorable product.
#11. Fluff Motif
With an engaging tangerine and shimmering teal design, we love Fluff Motif beer labels from Two Tides Brewing Company. 
Its mouth-wateringly delicious design may be bright and loud, but it's never busy. It's a warp of contrasting colors that instantly draws attention at any event. When you see someone holding a can of Fluff Motif, you can't help but wonder what it's all about. 
A unique twist about Fluff Motif is that the label art describes the taste. Fluff Motif is a series of marshmallow fruit sours. From the art on the can and the color of the beer, you can get a good sense of the flavor before you even pop the top.
#12. Fate's Reflection
This one is unlike any beer label we've ever seen. It's dramatic, thought-provoking, and a bit dark. An incredibly artistic and melancholy label that's also a clever play on words, Fate's Reflection dares to be different. And your brew can too!
Stylized drawings like these are becoming much more popular in the craft brewing space. While that can create added competition, getting people to buy your brew before they taste it is all about creating an eye-catching design. If you're going with a stylized drawing on your custom labels, ask yourself what would make you stop and pick up a 6-pack? 
#13. Una Fria
Highlighting delicious hand-drawn elegance, the Una Fria from Novel Stand Brewing Company perfectly captures the feel, look, and energy of a Dominican bodega. It's like a little painting for your beer can. 
Not only does the art capture a charming little corner store, but the copy on the side paints a picture of a sweltering day and a refreshing, Dominican cure to beat the heat. 
#14. Indikator
The label for Schilling Beer Company's Indikator dark lager won Lagerish's Best Beer Label of  2020 award.
It's easy to see why. This hand-drawn label blends traditional, rustic imagery with a sleek, modern palette. Another thing we appreciate is how the artwork communicates the taste promised to customers with the bock imagery on the label.  
#15. Noble Friend
Unseen Creatures' Noble Friend series of beer can labels demonstrates strong branding and storytelling. The hand-drawn labels are a tribute to the brand's partnership with Civil Society Brewing in concocting the Noble Friend series.

The label says nothing about what's in the can, it doesn't even have the name on it. But if you've been paying attention — that's kind of the point. Creating a great craft beer label is about being interesting and reeling in customers before they've had a chance to sample your brew. 
The neat thing about designs like Noble Friend is that they have value beyond what's inside the can. By putting interesting, quality art on the can, Noble Friend has become a collector item to put on your shelf, which also makes it a constant reminder to pick up another 6-pack on your next trip to the store.
Raise the Bar with Stomp Custom Beer Labels 
Ready to take your customized beer label design to the next level? 
Metallic silver beer can labels from your pals at Stomp give you ample opportunity to outshine your competitors. Stand out on the store shelves with a shimmering custom beer label that's irresistible and will make you stand out from the rest on those jam-packed store shelves. 
Start designing today!