Should You Print Your Own Labels or Print Professionally?
Should You Print Your Own Labels or Print Professionally?
When it comes to printing custom labels, there are really two options: printing your own labels or buying them through a professional printing company. Both methods have pros and cons, some of which aren't immediately obvious for new business owners. 
Which one is the better choice for your situation? To find out, let's go over some of the key questions you need to ask yourself when looking to print custom labels, as well as the pros and cons of each. 
When to Print Custom Labels Yourself
In some cases, printing your own labels can be a viable option. If you are printing for personal use or short-term projects, printing on your own could save you time and money. Additionally, if you have access to a high-quality printer, you can produce professional-looking labels without waiting or outsourcing the printing.
On the other hand, printing your own labels probably isn't the best option for high quantities, often more than a few dozen. If you don't have your own printing press and are relying on your home printer or the local copy machine, printing a large number of labels on your own can be time-consuming and expensive. You should also consider that you will need to trim consumer-grade labels before use, adding more time to the process. 
Why Use Professional Printing Services for Custom Labels?
If you need a large number of labels, or you need labels that will be exposed to the elements, it is best to use professional printing services. Professional printing companies have the equipment and experience to quickly and efficiently produce high-quality labels. They also offer a range of label materials to suit different types of products, so you'll always have more flexible options.
For example, if you're printing your own labels, you might not have access to the same high-performance materials that professional printers use. Professional printing services have experience with a wide range of label types and can recommend the best choice for your product. Similarly, professional printers often deliver a product that more closely aligns to your design as their machines have better calibrated 4-color process printing capabilities than standard, consumer printers. 
Professional printing is also more economical as they almost always offer discounts for bulk orders, which can save you a significant amount of money in the long run and help you maintain a healthy profit margin. Even if you could reliably source label paper and ink in bulk, printing them yourself is likely to be much more expensive than printing with a professional. 
Even when considering the cost of just a hundred custom labels, professional printing is almost always a more efficient and cost-effective approach. Professional printing gives you the consistency you need to support your brand and all the work you've already put into marketing. 
Printing your own labels is really only cost effective in very small quantities, usually when the amount of labels you need is less than a professional printer's minimum order.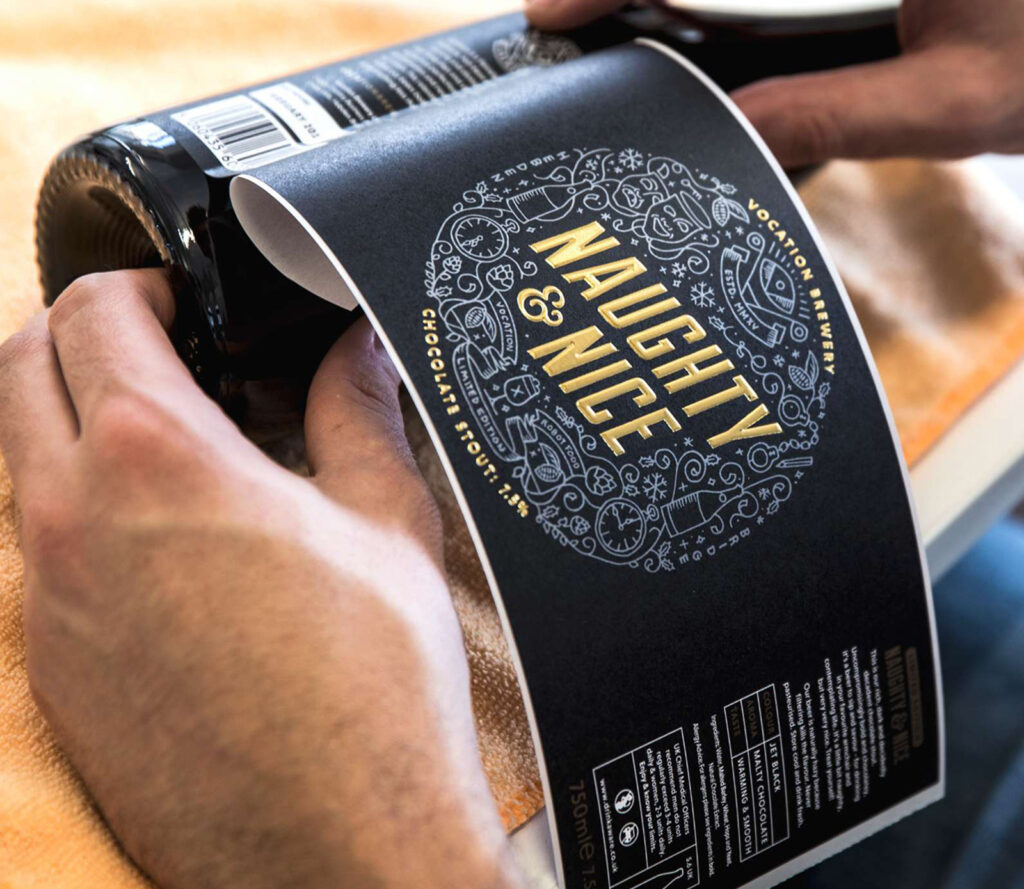 Professional Printing vs. Printing Your Own Labels
When it comes to printing custom labels, there is no one-size-fits-all solution. The best method for printing your labels will depend on your specific needs and preferences. 
If you are still unsure about which printing method to use, we recommend speaking to a professional printing company like Stomp to get some solid advice. We've got tons of experience working with niche products, such as food and beverage, canopy tents, gift boxes, and more. We even offer a DIY online design tool. It's super easy to use, keeping you in the driver's seat while maintaining all the benefits of a professional printing service. 
So, let's look at the pros and cons of printing your own labels vs. professional printing. 
Pros and Cons of Printing Your Own Labels
Printing your own labels can be a quick and easy solution for small or simple printing projects like shipping labels or if you're testing out some new designs before you commit to a large print run. 
On the plus side:
Printing your own labels can be less expensive, especially if you need significantly fewer labels than a minimum order number would allow.

You don't have to wait for shipping. 

You can print anytime you have a need.

You are 100% in control.

Suitable for short runs or testing out a new design.

You can test your image resolution before a full scale printing. 

Great for small companies and craft fair vendors.
However, there are some drawbacks you should also keep in mind.
You might not have access to the same high-quality materials as professional printers, which could be an issue if exposure to heat, cold, or other elements will be a factor.

You may not be able to achieve your desired resolution.

Printing a large number of labels on your own can be time-consuming — it's just one more thing on your to-do list! 

It's not cost effective if you need to print in bulk. 

You'll pay more for printing paper because you're not buying in bulk. 

High-quality printers and ink can be costly!
Pros and Cons of Professional Printing
Professional printing is a great choice when there is no room for error. If your print quality must be the best of the best, you won't often achieve that with a consumer-grade printer. It's best to consider all the options before you decide. 
The pros of professional printing include:
Top-quality print output.

Large quantities are no problem.

Professional inks and seals maintain their color and detail longer. 

Access to a wide range of specialty print stock to suit your needs.

Professional design specialists to advise and ensure the best result.

Maintain consistency on subsequent print runs.
But just like all good things, professional printing has some drawbacks:
Professional printing can be very expensive for short runs.

You may need to wait longer than you'd like, which is not ideal if you're on a tight deadline.

You'll generally have to order larger quantities to make it cost effective.

Even a professional printer can't improve a low-quality image. Before sending your art for printing, you need to ensure it is of the optimal resolution. Mass production of low resolution art could be a costly mistake.

You need to finalize your design before printing as any change requires a potentially expensive reprinting.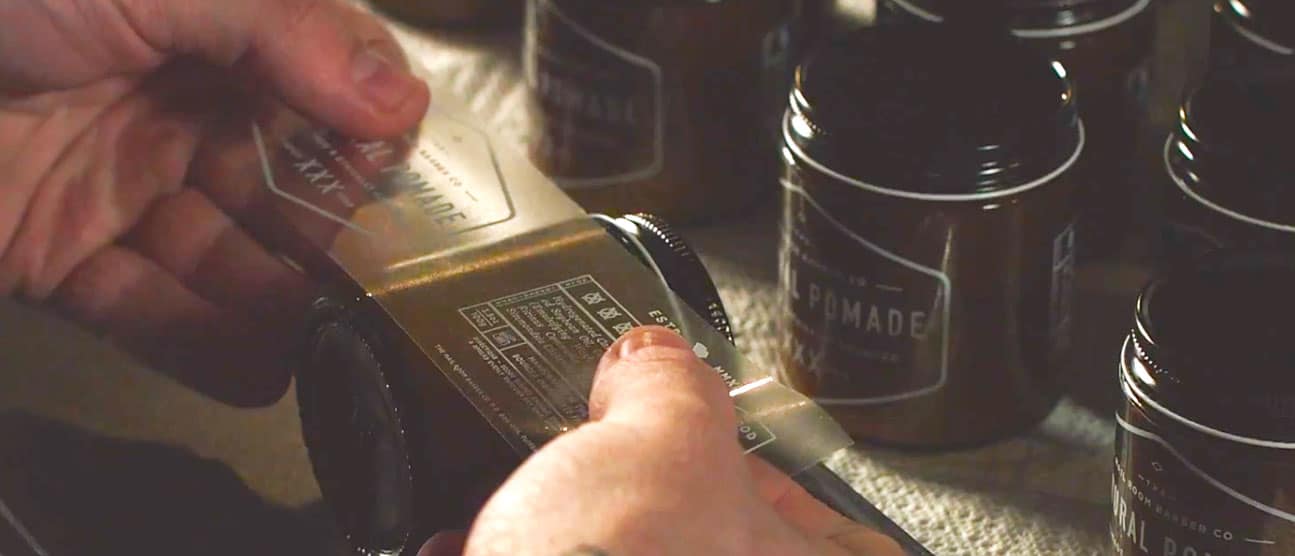 Print Quality Custom Labels with Stomp
Printing high-quality custom labels with Stomp gives you the best of both worlds. You're in control of the design, have access to an extensive range of materials and templates, and get the benefit of competitive pricing and fast turnarounds on short-run print jobs. Plus, you won't have to invest in costly print equipment or leave the comfort of your office to get it done. 
Our online design tool is so user-friendly anyone can use it. Better yet, our print experts are just a click away if you need support. When you're ready to print, we're here to help. 
Check out our custom label collection
and start printing today!