11 Unique Swag Ideas for Your Next Corporate Golf Tournament
11 Unique Swag Ideas for Your Next Corporate Golf Tournament
Corporate golf tournaments are great team-building activities. They're also an excellent way for organizations to raise money for charity, engage with the community, strengthen relationships, and increase brand awareness. 
However, if you've ever played in a golf tournament, you know it's more than just getting out of the office to hit some balls. Golf tournaments come with a certain set of expectations - beer, food, raffles, and of course, swag. 
What Do You Put in a Golf Tournament Swag Bag?
Finding swag that people actually want while also staying on budget can be challenging. After all, how many tees or ball cleaners can one person have?    
To help you plan for your next tournament, we've put together a list of 11 un"fore"gettable swag items.    
1. Fun Ball Markers 
Add some cheeky fun to your game with novelty ball markers. Affordable, easy to distribute, and perfect for putting a smile on your players' faces, ball markers help golfers mark their spots and add swag to their swings. 
Explore a ton of creative options on Etsy or consider customizing a set yourself. To make your own, order a set of blank ball markers, print a set of round labels, and ta-da! You have your own custom ball markers!
2. Customized Water Bottles
Golf season means being outdoors in the sun and heat. Water is a must. Keep your players hydrated and happy with customized water bottles. While personalized water bottles can be expensive, buying blank water bottles in bulk and adding personalized labels is another way to get the same effect.
Add the name and year of the tournament, include your company logo, or get creative and put your CEO's face on them. Whatever you do, people will appreciate the cool water and your message will be front and center. 
3. Cooling Towel 
Golf towels are one of the most common types of corporate swag given out at golf tournaments, so why not do yours differently? 
To delight your players, give them a cooling towel to stay dry and cool even when it's 90 degrees out. There are plenty of options out there from blank towels to custom-printed versions with your logo. Either way, your golfers will be more than happy to have an extremely useful piece of swag. 
Are you looking for another option to keep players cool? Toss a custom hand fan into the tournament package. It will provide a pleasant breeze between shots or during dinner. 
4. Sunscreen and Hand Sanitizer
No one wants a sunburn. Unfortunately, people tend to forget their sunscreen when they need it the most. Keep players protected from the sun by offering small sunscreen bottles in each swag bag. 
And don't forget about hand sanitizer. Between picking up balls, shaking hands, and driving the golf carts, players are going to encounter plenty of germs. Similar to sunscreen, include a small hand sanitizer bottle as part of the swag bag.
Want to take these gifts to the next level? Add custom labels. As any marketer will tell you, more brand exposure is always better!
5. Rubber Tees
Every golfer knows that you can never have enough wooden tees, as they break with nearly every swing off the tee box. But this can all be avoided with rubber tees! Customize rubber tees with your business's logo or slogan, and your employees and customers will thank you later.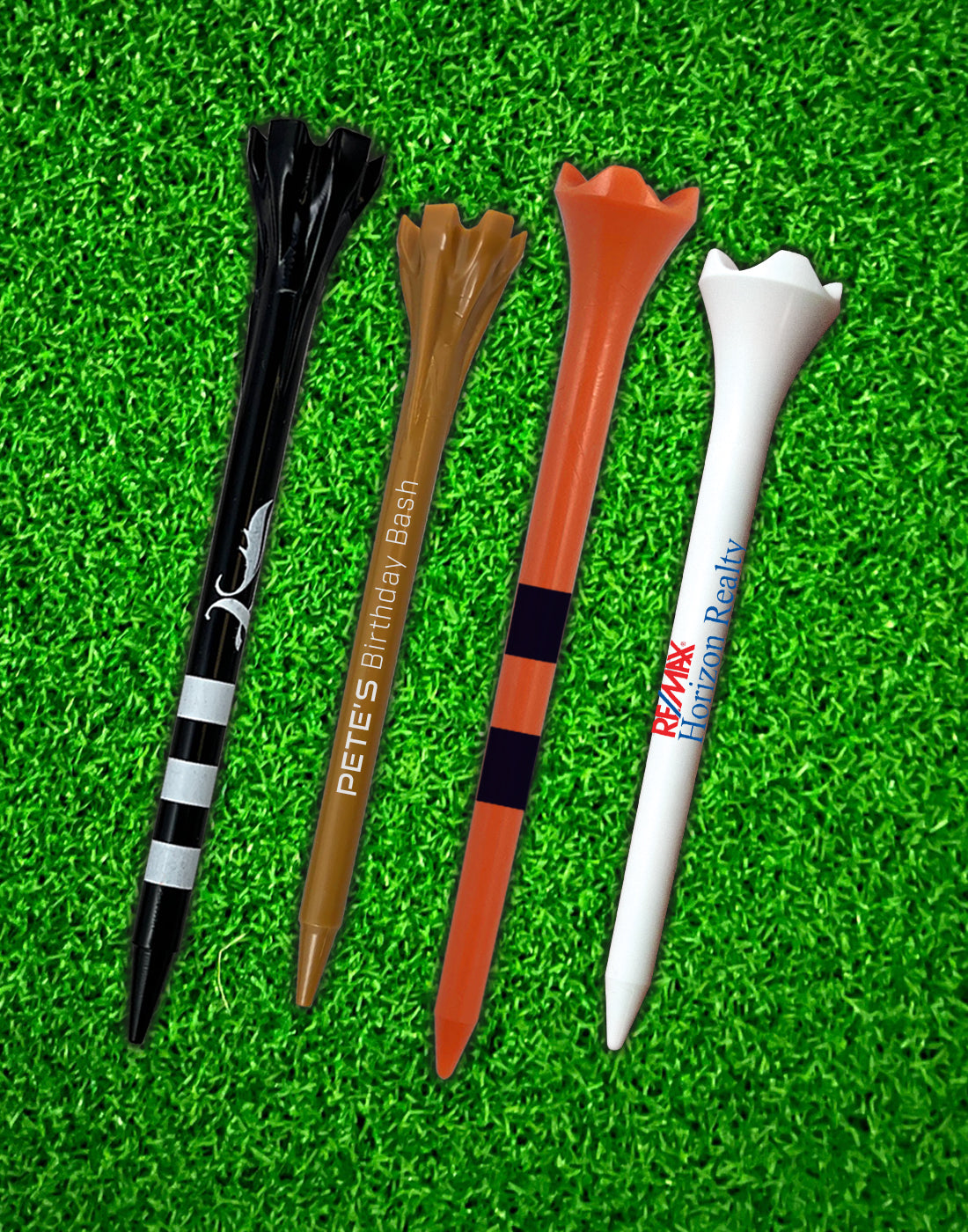 6. Magnetic Koozies
Everyone loves a koozie. It keeps your drink cold and it prevents your hands from getting all wet. But if you've ever had a beer in a golf cart, you know it's bumpy and the beer almost always spills. Enter the magnetic koozie. 
These koozies will keep your beer steady and are also affordable, easy to distribute, and perfect for keeping your players' beverages of choice cool and refreshing - even on a hot day. 
7. Insulated Tumblers


Tumblers came on the market hot a few years ago with Yeti leading the way. And what's not to like about them? They are perfect for holding hot or cold drinks, they're durable, functional, and they are ideal for busy, on-the-go lifestyles. Even better, there are a ton of choices out there to fit any budget. 
When you are putting your swag bag together, use your Tumbler to save space. They can hold your smaller items - tees, ball markers, business cards, or even customized business logo stickers - to ensure they don't get missed at the bottom of the bag. 
8. Custom Golf Ball Sleeves  
Fore! If you've played in a corporate golf tournament, you've definitely heard a person or two yell that out. The people playing aren't typically professionals and errant shots are common. That means lots of lost balls.
As a tournament organizer, you know how valuable balls are to any swag bag. Unfortunately, custom-printed golf balls can be pricey and often of poor quality. To give your players quality balls without the high prices, order them in bulk and put them in promotional golf ball sleeves. You still get your branding across and players get a set of balls they'll actually use.
9. Caddy Pouches
When your players reach the tee box, you want them ready to go. This means having their tees and balls handy. Enter the caddy pouch.
There are a number of different places to order caddy pouches from but what makes them so useful is they clip right to a golf bag or even a belt loop. No more digging around the inside of golf bags and slowing things down. 
Plus, they can be customized with your logo and can also double as a snack holder in your swag bag. Bonus!
10. Golf Ball Bottle Opener and Keychain
​​
You've seen bottle openers and you've seen keychains. Meet the golf ball bottle opener and keychain! It's fun, it's durable, it's locally made, and it's definitely unique. 
What makes a swag bag memorable is the usefulness of the items inside and this one is certainly useful. It can clip right to a golf bag and it will undoubtedly catch the attention of others. This is another instance where adding your logo can go a long way.
11. Golf-Themed Socks
Forget hats and t-shirts. You've got socks! 
There are so many cool socks out there now and they make a terrific addition to any swag bag. Give everyone the same pair or order a variety of assorted designs.
Don't order just any pair though. Find socks that fit your brand identity. For example, if you are a financial organization with clients playing, "Talk birdie to me" socks might not be the right match. 
Get Your Swag Bag Ready to Go
For your next corporate golf tournament, don't settle for the same tired old corporate swag. Go the extra mile and provide some fun, unique, and customizable gifts. 

Want to print custom stickers, labels, or golf ball sleeves? We offer lightning-fast turnarounds and high-quality custom printing. Feel free to contact us with any questions and may the course be with you!
Golf Bag Swag FAQs
What is Golf Bag Swag?
Golf bag swag are the necessary, or at times unnecessary, items that golfers have in their golf bag. This can be anything from branded golf balls to a golf swing shirt, but whatever it is, it serves a purpose in the game of golf. 
Why are Swag Bags Important?
Swag bags are a great way to engage with your employees or customers, while promoting your business and brand. Every company wants to leave a lasting impression, and using swag bags can be a great way to create a positive interaction, start conversation, and spread brand awareness.
What Do You Put in a Golf Swag Bag?
If you're an avid golfer, you probably already have the essentials; golf balls, tees, ball markers, etc. That said, any golfer knows that an extra sleeve of golf balls in your bag is a great idea. Some ideas to put into a golf goodie bag include golf balls, plastic tees, a golf brush, small sharpie, and divot tool.