Seal In Your Brand with Custom Mason Jar Labels
Seal In Your Brand with Custom Mason Jar Labels
Mason jars are an excellent packaging choice for cottage foods and products with a rustic charm. They convey a certain nostalgic attitude about your product that is completely different from other jars. 
Because these jars already say a lot about your product, it's essential to consider how your Mason jar labels play into your overall packaging and branding strategy.
What Do Mason Jars Say About Your Brand?
Mason jars have a more rustic and homespun feel than other glass containers. When you see a product packaged in a Mason jar, you immediately "get" that the brand is down-to-earth, uncomplicated, and maybe just a bit crafty.
For example, if you're selling honey or jam, packaging them in Mason jars gives off a homemade vibe that customers looking for natural or artisanal products may find appealing. If you're selling products like candles or hand creams, Mason jars lend an old-timey, apothecary feel compared to what's on the market today. 
Mason jars are practical too. They're inexpensive and durable and many people reuse empty jars, so there's a lot to love about them beyond the look. Given that Mason jars have their own personality, your Mason jar labels should aim to build upon that cottage-industry foundation.
Rustic Design Tips for Mason Jar Labels
Mason jars are naturally rustic, so design-wise, a rustic approach is fun and appropriate. 
Here are a few "high-level" design tips to consider:
Use earthy colors and simple fonts that support a handmade feel.

Stick with designs that are clean and uncluttered.

Use images or graphics that play into the natural theme of Mason jars.

Avoid using too much text on your Mason jar labels. Less is more!
People should be able to read your label at a glance and instantly gain an understanding of who you are and what you're selling. Potential customers will pass over anything that's too busy or too small to read, so make sure the text on the front of your Mason jar label is clear, concise, and scannable at a glance.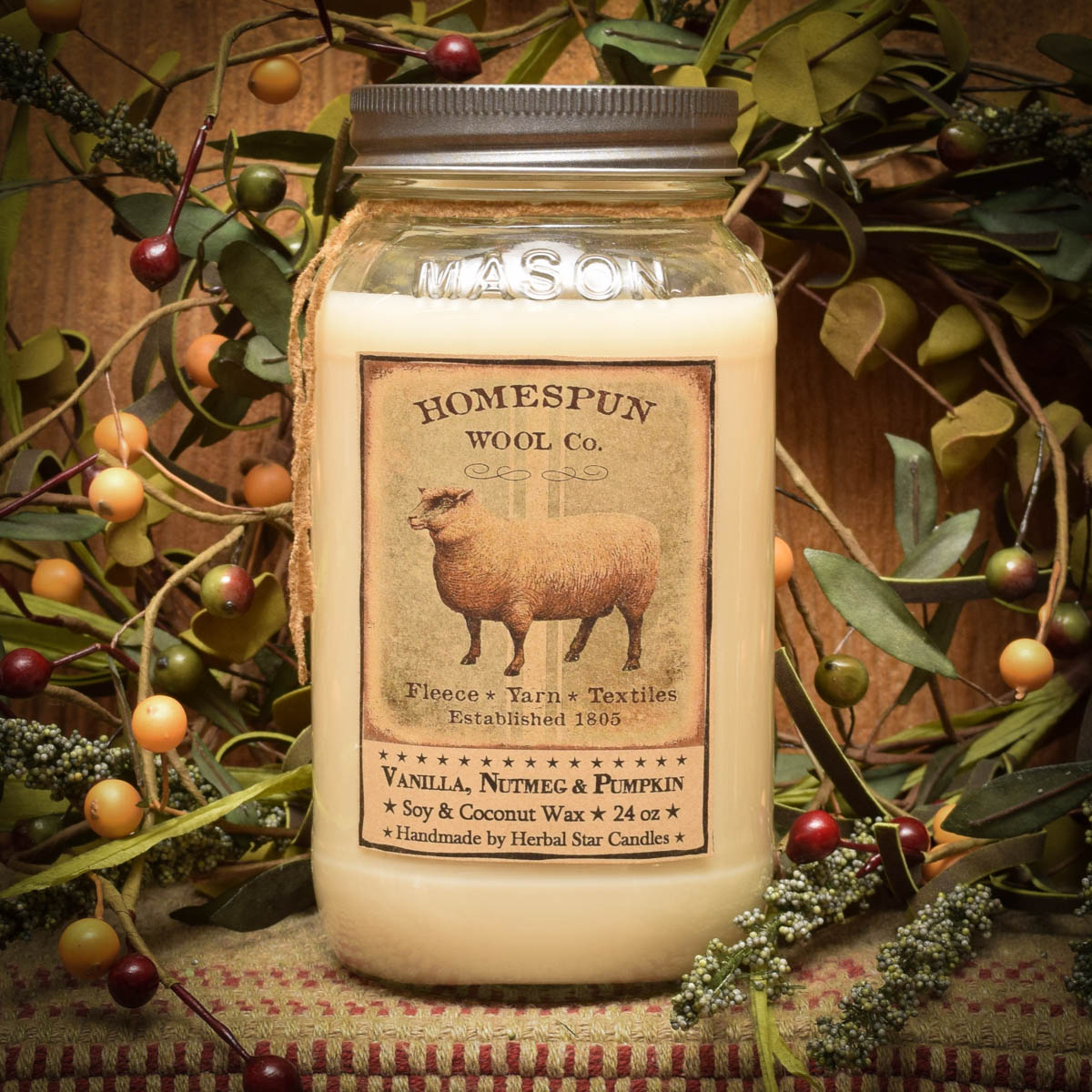 With that in mind, here are a few more tips to help your Mason jars stand out on a crowded shelf. 
Colors

: Neutrals, earth tones, pastels—warm, soft

colors work best

for that rustic look.

Fonts: Handwriting or mechanical typewriter fonts are a great choice for Mason jars, and there are tons of fonts that mimic either a relaxed, homespun vibe or a farmer's almanac. 
Graphics

. Logos and graphics are great to include on a Mason jar label, as long as they are uncluttered and give the customer a better understanding of your brand. While every brand is different, floral patterns and pencil illustrations are two simple designs that do a lot of work in terms of brand feeling. 
That said, these are just some recommendations based on popular Mason jar designs. The kind of container you put your product in says a lot about how the customer feels about it. These aren't hard and fast rules to Mason jar label design, they're just tips. If your brand is a little unconventional, we recommend you tinker with a few different designs and see which is the best fit.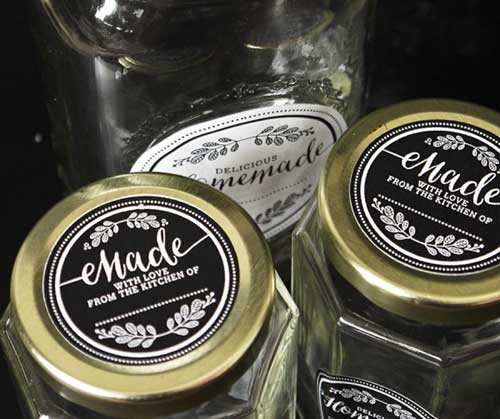 Choosing the Right Label for Your Mason Jar
Once you have your design and a better understanding of your brand, the next step is to choose the right type of Mason jar label. There are a few options to consider, but the best one for you will depend on the product you're selling.
Here are a few examples:
Wraparound Labels
Wraparound labels maximize space on your Mason jars. They're a good option if you need to include a lot of information, like ingredients, a nutrition panel, or allergen information. And because they wrap around the entire jar, they give you a lot of space to play with when it comes to graphic design.
Front and Back Labels
Front and back labels are best for products that don't require much information on the label or those that want to show off what's inside the jar. Front and back labels also allow you to use different designs on each side of the label, which can help catch a potential customer's attention.
Lid Stickers
Lid stickers are a great way to add a pop of color or design to your Mason jars. They're perfect for products that don't require a lot of labeling, like candles or bath salts. Plus, because they're applied to the lid, they're easy to remove and replace if you need to make a change.
How Stomp Can Make Your Mason Jar Labels Airtight
Artisanal and craft products are popular these days, and it's common to see all kinds of products packaged in Mason jars. If you've decided Mason jars are the way to go for your brand, a great label is a must. The right packaging and labeling can help your brand become a lighthouse in a sea of artisanal products.
Stomp makes it easy to design Mason jar labels that you'll love and your customers will remember. Add your label art with our user-friendly online design tool, and if you get stuck, reach out to our helpful support squad.
We offer a wide variety of label materials and sizes to choose from, including durable waterproof Mason jar labels that will stay on, even in extreme conditions. Browse our collection of Mason jar labels today.