Our Top 10 Small Business Saturday Tips
Our Top 10 Small Business Saturday Tips
It may be small, but it's still a big deal. And no, we're not talking about the usual Black Friday deals. We're talking about Small Business Saturday!
What exactly is Small Business Saturday? It's an important shopping day that gives business owners the opportunity to capitalize on the predictable holiday rush. 
Roughly half of the surveyed holiday shoppers will stay local and support Small Business Saturday. Take advantage of this day, and you can have a huge, successful sales event and end the year with a profitable bang. 
So what's the secret to a successful sales event? Two things: Promoting your small business and offering customers something they can't get anywhere else. Here are our top 10 small business Saturday Tips to help you do exactly that. But first… 
Small Business Saturday: A (very) brief history
How did all this start anyway? American Express coined Small Business Saturday in 2010 — smack in the middle of the Great Recession. The goal was to encourage people to shop small and support local businesses. 
The good news? It worked. 
The first Small Business Saturday was a success and this holiday-inspired sales event has continued ever since. It was so impactful that Congress took notice and (with bipartisan support) passed a motion recognizing the day.
It was a Christmas miracle. 
Since then, many different organizations have become involved in supporting Small Business Saturday as Neighborhood Champions.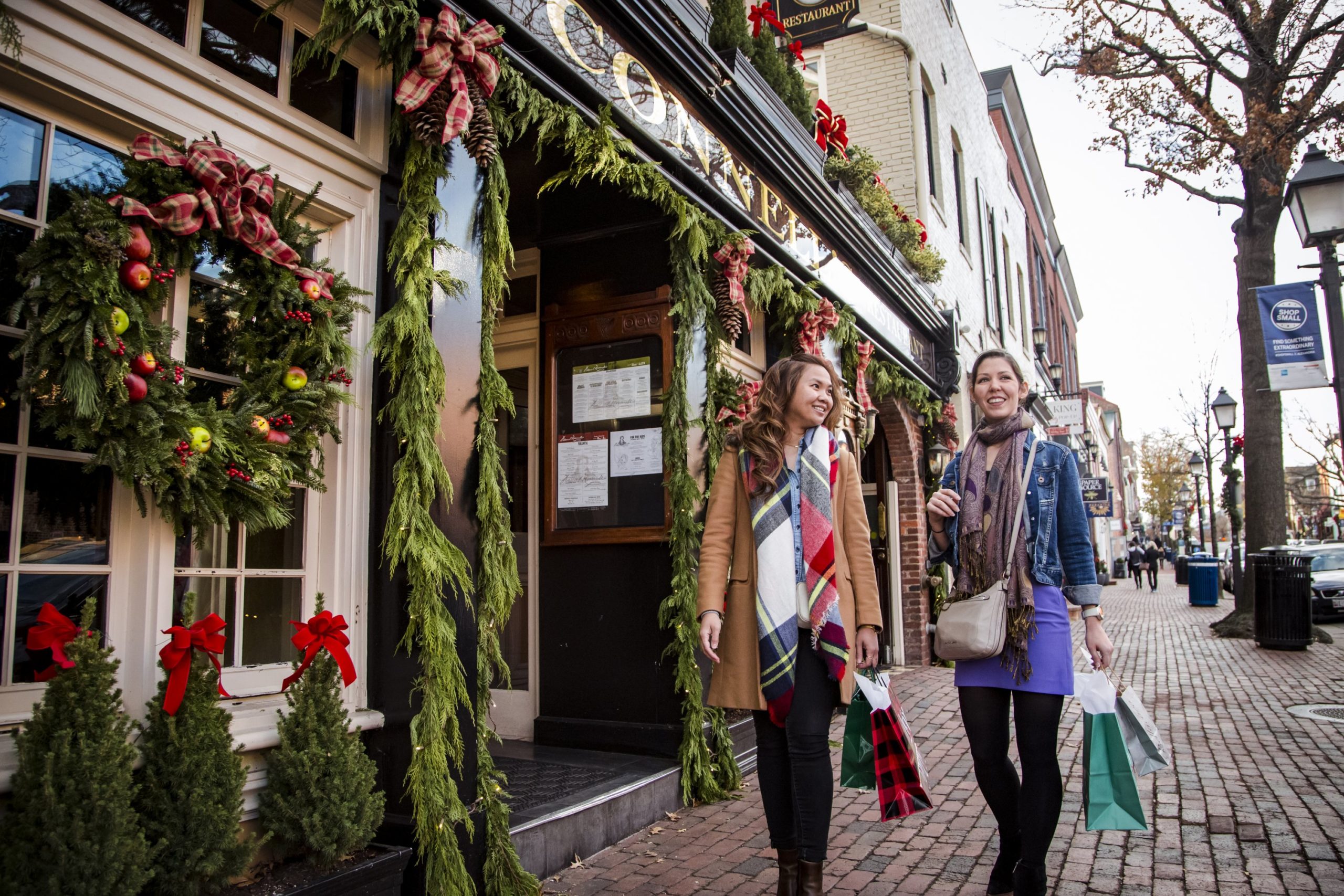 Small Business Saturday Tips 
If you're ready to make your own Christmas miracle this year, the following marketing and organizational tips will help you boost revenue.
#1. Stock up on stuff and staff
The last thing you want is a lump of coal in your Small Business Saturday stocking in the form of low inventory or no inventory. 
You'll want to ensure you have enough supply to meet the increased demand for your offerings. So, make sure you're fully stocked for the day on your most popular items and the items you'll be heavily promoting. 
This tip also applies to stocking your shop with qualified staff for the big day. Think about your team member's strengths and assign tasks accordingly. Make sure you've laid out everyone's roles and responsibilities so you avoid confusion when your shop is bustling with enthusiastic shoppers. 
For example, say you've got someone who's a Michelangelo at wrapping gifts. Delegate this task to them and communicate that it's a top priority while your employee who is best at handling customers mans the register. 
If you're a one-(wo)man-band, get a to-do list started so you can stay on track when things get busy. 
#2. Give them an offer they can't refuse
It doesn't matter if your small biz is strictly online or a brick-and-mortar establishment. Nothing brings all the customers to the yard like a sale. And on Small Business Saturday, customers are expecting it. 
So, craft an offer they cannot refuse that's solely dedicated to Small Business Saturday. 
What's your most popular item? Do you have some excess inventory you want to move? What item has sold really well during previous sales events?
Here are some examples of offers you can run on this special day:
15 percent off everything

Buy one, get one free

Buy one, get one half off

Free gift with purchase over X amount

Free gift wrapping

20 percent off your next purchase with orders over X amount
Whatever you choose, make sure you advertise your irresistible offer in advance and make sure you're using all the available mediums, both traditional and digital. 
#3. Advertise with email and social 
Shoppers' schedules are jam-packed on the weekends, especially during the holidays. Make sure you let people know about your sale well in advance and through multiple touch-points so it stays top of mind. 
Crafting a short and sweet series of emails dedicated solely to your Small Business Saturday sale is a great place to start:
Email 1

— Announce Small Business Saturday and the sale a week or so before the big day. Give subscribers some teasers about your offer so they know what to look forward to. 

Email 2

— Send a reminder about the sale a day or two beforehand and push urgency and FOMO. Let them know your offer is only good for Small Business Saturday so they don't want to miss it. 

Email 3

— Boom! It's Saturday. The sale is on!

Email 4

— Last chance. Better shop now before the clock strikes 12 and the offer turns into a pumpkin. 
Also, apply these principles to your social media. Be sure to hit all channels so you're getting the offer (and last call) in front of multiple audiences. Use the same template as the email series for your social posts to establish brand consistency. 
If you've got the budget, consider running paid advertising online or radio ads to encourage even more in-store or online foot traffic. If you're a brick-and-mortar business, a sign in the window or a chalk clapboard on the sidewalk are some more cost-effective ways to spread the word.

#4. Change your operating hours
Ring every last drop from this juicy sales orange. Consider changing your hours to accommodate more customers. Stay late, open early, or both for Small Business Saturday. 
And if you do decide to implement this tip, be sure to communicate it to your customers via email, social media, and Google My Business so customers are in the know and can shop at a time that is convenient for them. 
#5. Don't be a Scrooge. Spread the holiday cheer!
Freebies are an excellent marketing tool to reward customers and get your brand in front of more people. Offer exclusive stickers, coasters, ornaments, and other small branded trinkets as freebies to customers who buy from you on Small Business Saturday. Those freebies are good branding and will remind your customers of your brand long after the gift exchange.  
To make this as effective as possible, remember to tell everyone about the freebie ahead of time in your emails and social posts!
#5. Offer a convenient wrapping station
If you've got the budget and the staff bandwidth for it, a gift-wrapping station is an excellent tool for getting people in the door and boosting their opinion of your business. Gift wrapping saves your customers a lot of time during the hectic holidays and it's one less thing they have to worry about. 
Don't want to deal with wrapping paper? Christmas has come early for you. Custom holiday boxes from Stomp will do a stellar job of spreading festive cheer if wrapping paper and ribbon aren't your thing. 
#6. Prioritize your superior customer service
Small Business Saturday is all about supporting the community. So, if you really want to make a connection with your customers and neighbors, prioritize superior customer service. 
Greet every customer as they walk in the door and offer to help them with whatever they may need. A simple greeting and acknowledgment can make a big difference in how customers feel about you and your business. 
#7. Make a scene (in a good way)
Even your best marketing efforts won't reach everyone. But, you can attract more attention for a brick-and-mortar location with a special promotion dedicated to Small Business Saturday. 
Depending on your business, brand, and target audience, this might be free samples, live music, a bounce house for kids, or anything else that draws attention to the store. 
#8. Collaborate 
Community is a priority on Small Business Saturday. The little people have got to stick together. So, is there another business in your area whose product or brand complements yours? Reach out to them and offer to collaborate. 
You promote their deals, they promote yours, and everybody can go home that night happier, with more stock moved, and more friends in the neighborhood. 
#9. Keep your foot on the gas
You'll probably be tired after the big day. But it's important to follow up in the week after Small Business Saturday. This will keep the momentum going and your brand top of mind with your customers. That way, you can boost your chances of successful December sales numbers. 
One idea is to give your customers, staff, and small business collaborators a token of your appreciation in the form of a thank you note. Share photos of the event and communicate your appreciation for them on social media, email, and your website. 
Remind your customers of the great experience they had shopping with you and encourage them to visit you again soon. If you have a promotion in the works for December, include it in the thank you note. 
Get a Jumpstart on the Holiday Sales Rush with Stomp
Small Business Saturday gives you an excellent opportunity to connect with local shoppers and other small businesses while boosting your sales numbers before the end of the year. Use this day to move excess inventory or promote new products. 
But don't forget to get a little creative with your marketing! Custom Stickers and Holiday Boxes from your friends at Stomp will go a long way toward making your Small Business Saturday a huge hit with customers.