Food Festivals & Fun: Creating the Best Concession Tent
Food Festivals & Fun: Creating the Best Concession Tent
Everyone loves a food festival. For patrons, it means getting out and exploring the best of what a city has to offer. But they're even better if you own a restaurant. They're fun, they're quick, and if you handle them right, they can give you a quick revenue boost — with a noticeable uptick in long-term foot traffic.
The only question is: how do you manage a food festival the right way?
One word: preparation. From creating signage to capture the attention of festival goers, to creating displays that push your best dishes, there are a few strategies every restaurant owner should consider before building a restaurant tent.
Let's — pardon the pun — dig in.
Build a Concession Tent that Does the Talking
For most food festivals, getting attention for your restaurant means building restaurant canopy tents. But here's the thing: everyone's going to build a tent. If you want your tent to do the talking and attract more foot traffic, you need to know which visual cues make you stand out. 
Take a look at the picture below from the Buffalo Wing Fest. Look at the line for the branded tent compared to the other tents. 


So what's the takeaway? How can you make a booth that will pull in a crowd like this? Here are a few ways to do it:
Match your concession tent to your branding.

The first step is building basic recognizability. Think Coca-Cola's stark red and cursive logo. Not only have they been using this logo for nearly 150 years — they reinforce it

constantly

. Use the design of the tent to reinforce your brand and get your name into the public eye.
Use high-contrast lettering. In the picture above, is it hard to read "Boneheads"? Of course not. The letters are white, contrasting well with the black background. They stylized the logo itself for 80s rock, but they printed the name and website in plain, readable text on the trim. 


Follow the Signs
When you're setting up your food tents, have a walkabout. Try to see it from all 360 degrees. Imagine yourself as a potential customer, unaware of what they're looking at, and see if your tent makes it easy to find your restaurant's presence. Look at the picture above again. If people hear "You have to try Boneheads," it only takes a glance to find where they are.  
If your booth doesn't immediately jump out, here are some tips for making it work:
Write it down!

From banners to chalkboard signs, make sure people can see what you're selling. Your message isn't getting across unless you make it obvious and visible. Show off your sales from various angles and distances. Imagine customers coming from any direction and adjust your branding accordingly. 
Show people where to go. Put up big arrows if your space is confusing. Show people where to get their food. The more obvious you make it; the more people will feel welcome — especially those first few skittish customers.


Make Your Food Irresistible
What's the best part of a food festival with lots of restaurant canopy tents? The smell. Deep fryers, smokey scents, grilled vegetables — it creates an aroma you can't duplicate at home. 


In the "Local Veggies fresh" canopy above, you see how the tent not only filters customers to one side, making serving easier, but it also leaves open space for the sights and smells to make an impact. It's obvious where customers should go — there's only one side open — but there's enough open space for the restaurant to tempt customers with the products that  they see.
Build an Inviting Presentation
Tables, booth layout, where you put the food, signage — it all adds up to one thing. Is your restaurant tent enticing?
In the example above, you see a canopy that looks welcoming despite covering three sides. Why is it welcoming? It's open, it shows off the brand, and it gives customers a place to filter in. 
Think about foot traffic and branding in similar ways when you build your presentation. Are the tables accessible and easy to find? Is the food out, luring customers in with irresistible smells? Can customers see the food once they approach? Does your signage make your products and restaurant name obvious?
Throw 'em a Freebie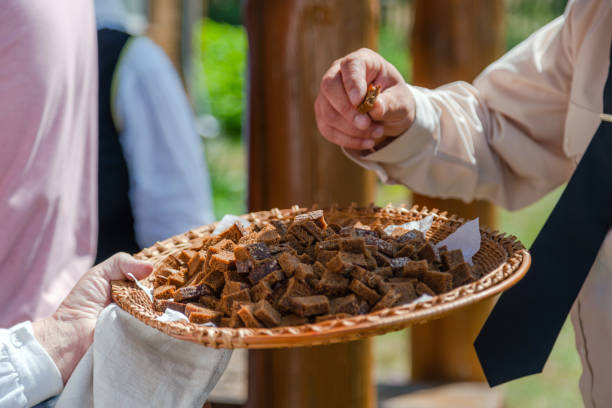 In Robert Cialdini's seminal work on persuasion, Influence, he included an interesting marketing technique that seems counterintuitive at first: give something away.
It's a principle that seems obvious in grocery stores, where free samples help entice customers to buy a new product. But why don't restaurants use it? Fortunately, a restaurant tent is a perfect opportunity to get people's attention by giving them freebies and samples. Not only will it attract more customers into the tent, but it will get you that key element that is so vital to food tents in the first place: attention.
Sure, some customers may take the freebie and move along. But that's part of the process. The real goal is to attract those customers who stick around, try out a full dish, or make a mental note to visit your restaurant at the next opportunity.
Making the Most of a Food Festival


When you own a restaurant, it can be difficult to show customers all the great dishes you're making on the inside. A food festival is a chance to change all that.
Put your samples on display, create a high-contrast sign for your tent, and match your restaurant's branding. You'll be sure to make an impression beyond taste and smell — you'll earn a spot in your potential customers' minds. And that's a reward that can last long after the food festival ends.
Cool Concession Tent Examples
Check out a few food concession stands that draw customers in and have them coming back for more.

Cali Craft Tacos

Aviva Brick Oven

Willie's Taco Joint

Cotton Candy Chef
Frequently Asked Questions for Custom Concession Tents
What Sizes Are Available For Custom Concession Tents?


Stomp offers food concession tents, also known as custom canopy tents, in three different sizes: 10' x 10', 10' x 15', and 10' x 20'



What Can I Customize With My Concession Tent?


With Stomp canopy tents, you are able to customize the tents themselves and add customized tent walls. Tent walls are offered in multiple sizes and you also have the option to order half walls that come in a set of two. Complete your food concession tent setup with a custom table throw to display your tasty foods!



How Do I Design My Custom Concession Tent?


Whatever design you have in mind, Stomp is here to help. Start with our custom canopy tent templates

. Select the size you want to

download

the template. After you add your design, remove any template layers and upload the design in our design tool. 



How Do I Transport My Concession Tent?


Save your back from added stress on festival day.  All Stomp canopy tents come

with free roller bags!

 
If you're ready to upgrade your next food festival booth, we've got you covered. Whether you're looking for a branded pop up, a display with walls, or a branded tablecloth, Stomp can help you make a festival booth that's sure to leave a lasting impression.