Cool Swag Ideas to Welcome Your New Employees
Cool Swag Ideas to Welcome Your New Employees
Who likes to get free stuff? EVERYONE! And that's precisely why giving out company swag has been a hallmark of sales and marketing ever since David Ogilvy first coined the term in 1946. Branded swag hits a one-two punch: first, there's the tiny thrill of getting a gift, edging up your brand loyalty meter. Second, there's the fact your brand will stay top of mind every time your customers use said gift. 
But before you go stockpiling ill-fitting tee shirts and boring mugs, consider this: today's talent is pretty savvy. They're looking for a role that not only enables career success but also understands their needs as individuals. And in the era of the Great Resignation, everything you do to build employee loyalty counts — starting from their very first day. With thoughtful and fun branded swag, you can demonstrate what makes your company special from day one. 
Need a little inspiration? Here are some of our favorite swag ideas that are sure to win them over.
Quality Drinkware to Sip From 
The days of handing out cheap water bottles and coffee mugs are long gone – most people have too many mugs as it is. Today's employees appreciate quality drinkware that's built to last, looks cool, and keeps junk out of landfills. The better quality the drinkware, the more likely it is to get long term use – think vacuum-insulated water bottles and tumblers. What's more, drinkware that has an element of modern style shows your company isn't stuck in the past or cleaning out the closet. 
Custom Earbuds to Find Their Focus
Listening to music at work has become the norm, which is why your employees will love a complementary set of wireless earbuds. The best part about these is that they are useful whether working in the office, at home, or running errands. While some companies offer custom promotional pods, a more economical alternative is to brand earbud cases with a custom company sticker. 
Branded Picnic Blankets for Life Outside the Workplace
Showing your employees that a healthy work-life balance is important can have a profound effect on employee loyalty and quality of work. Inspire them to get outside and unwind with a branded roll-up picnic blanket that stows away easily for concerts, camping, beach trips, and impromptu outdoor lunches. Remember, the key to a good, branded blanket is choosing one that's cozy, sized appropriately, and durable enough for long term use.
Portable Bluetooth Speaker to Say it Loud, Say it Proud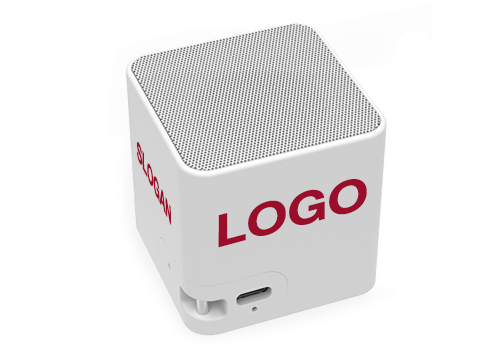 Can you ever have enough portable speakers? We don't think so. Not only are these the perfect companion for the aforementioned picnic blanket, but they're also the perfect item to take on trips, keep at your desk, or take to the bathroom for your next shower serenade. Similar to the earbuds, you can order branded speakers or opt for some custom-branded stickers to make them your own without breaking the bank. Spontaneous dance party, anyone?
Stylish, Eco-Friendly Totes for Everything & Anything
Let your employees flaunt their company pride with stylish tote bags! These are perfect for errands, the beach, quick weekend trips, Trader Joe's… pretty much anything! The trick to custom tote bags is selecting the right size and durability. A good-sized canvas bag will get more use than a small bag that rips after a few uses. Remember, employees appreciate effort; they will associate the quality of your swag with the quality of your company. 
Artisanal Snack Boxes (Because, Well, Snacks!)
One of the best perks of working in the office is snacks, whether teams have an official treat day, or a vendor sends a surprise delivery of tasty goodies. With many companies moving towards remote workforces, those WFH employees might not get to partake in the communal break room goodies. Assembling a box of tasty artisanal treats, coffees, and teas is a welcome onboarding gift that lets everyone know they are a valued member of the team. To make your own, place all the treats in one box, follow our tips for fun branded packaging, and then send it off! 
A Sleek Power Bank to Keep Them Fully Charged
Like portable speakers, an extra power bank always comes in handy. Whether it's for business travel, vacation, or an emergency backup, having a power bank on hand is practically a necessity for modern living. A custom power bank will keep them at full charge — making this one swag item they're sure to use. 
Branded Ring Light (Because We're All a Little Vain)
Who looks at themselves more than others on Zoom calls? If you're sheepishly raising your hand, don't sweat it.  Let's face it — in virtual meetings, we spend about 5% of the time looking at our coworkers and the other 95% scrutinizing ourselves. Help your employees put their best face forward with a flattering branded ring light they can clip onto their monitor — and they won't forget who helped make them look their best. 
Self-Care Goodies to Recharge & Reset
If the past few years have taught us anything, it's that self-care is no longer optional. A bundle of self-care items will let your employees know that their well-being is a priority. Custom lip balms, soaps, scented candles, essential oils, and sleep masks — anything that encourages your team to unplug from the matrix for a few minutes of much-needed downtime. 
Welcoming your new hires with thoughtful swag can go a long way toward establishing a positive relationship — one where your employees feel valued and motivated. No matter what you throw in your swag bag, we also recommend keeping plenty of custom stickers on hand. Stickers are easy to include with every swag bag (and happen to look awesome on a company laptop), but they can also turn almost anything into a promotional item. Whether you put them on employee swag, use them to seal boxes, or simply stick one on your welcome letter, custom stickers are an affordable way to establish loyalty and build company pride from the get-go. 
Ready to start building your new team? Start designing your custom stickers today!