How Stickers Can Enhance Construction Site Safety
How Stickers Can Enhance Construction Site Safety
It's no secret construction sites are hazardous, which is why workers must be cautious every second they're on the job site. Thankfully, OSHA regulations require extensive signage warning workers of potential hazards and next steps in case of an emergency. 
While plastic signs are common for job site safety efforts, vinyl decals are a cost-effective alternative to meeting signage requirements. Additionally, many people find it easier to apply a decal to the desired surface, rather than mounting a plastic sign. 
The Role of Visual Signage in Construction Site Safety
Visual signage is a standard OSHA requirement for all construction sites. Additionally, all safety signage must follow official design guidelines for color, text placement, and use of imagery. As requirements change, construction site operators must update their signage accordingly. 
The more signage you have to alert workers about potential hazards, emergency exits, and safety materials, the less likely you are to experience a workplace accident. Always place signs liberally and in highly-visible places so there is no chance that a worker could miss them by mistake.
You can also use stickers to help workers identify certified equipment operators. For example, a standardized "forklift certified" sticker quickly and easily communicates that the person driving the forklift has the training to uphold safety standards. Similarly, floor decals – such as those identifying lanes for heavy machinery traffic – can help identify pedestrian walkways.  To ensure the floor decals can withstand industrial applications and heavy traffic, choose the outdoor concrete decal material.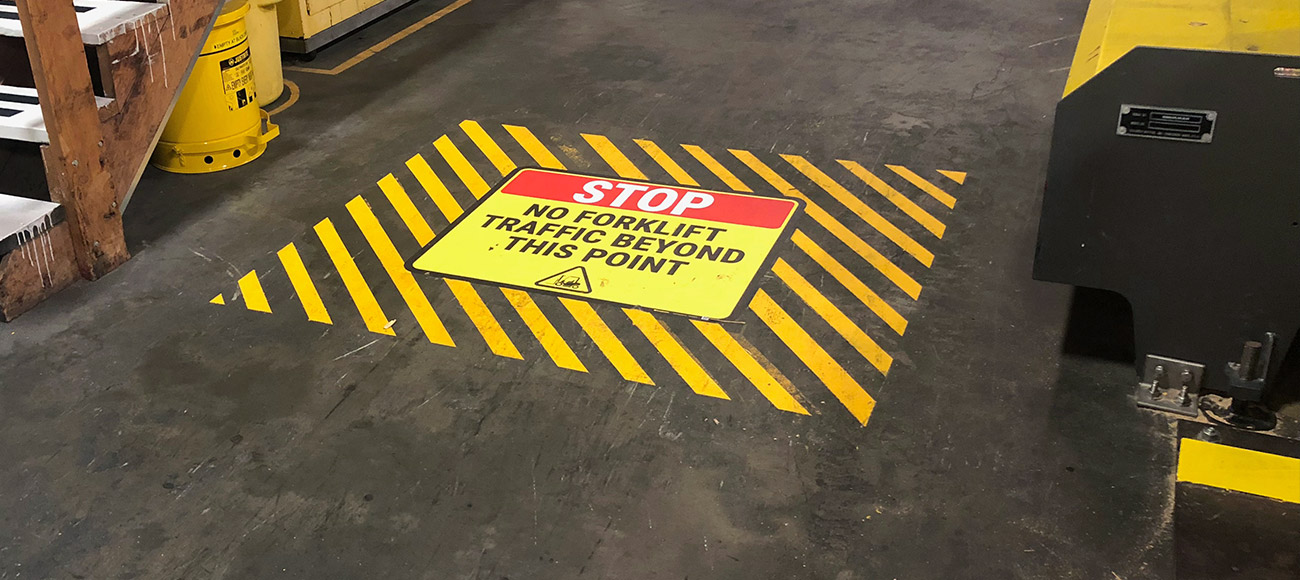 OSHA and ANSI Signage Standards and Regulations for Construction Sites
A number of organizations have established standards and regulations for signage on construction sites. These include the Occupational Safety and Health Administration (OSHA) and the American National Standards Institute (ANSI).
OSHA standards protect workers from potential hazards, while ANSI's standards focus on the signage design itself. 
Some of the most critical OSHA standards for construction site signage include:
There are no specific material requirements for safety signage, meaning vinyl stickers are just as acceptable as plastic signs. However, ANSI has strict design regulations. Before ordering any new safety signage, double-check the ANSI regulations and ensure that your design meets all the latest requirements. Outdated signage could lead to a potential violation.
How Hard Hat Stickers Improve Construction Site Safety
While safety signage is essential, hard hat stickers provide another simple and effective way to improve construction site safety. They remind workers to wear their hard hats while on the job and provide a simple visual reference for other workers and job supervisors. 
Hard hat stickers can be specific to the company or the job and have a number of uses. Here are a few examples:
Indicate

qualifications or certifications

for specific job duties, such as forklift operators or electricians.

Conceal medical ID information

on workers hard hats if relevant.

Show what

company or union

the individual is working for. This is helpful on large job sites that use day workers or where personnel change frequently. 

Identify

ownership of the gear

–in this case, a hard hat. 

A

team reward

for maintaining an accident-free work environment over a period of time. 

Add

flair,

personality, or the project logo on the hard hat. 
Design Your Hard Hat Stickers with Stomp
Now that you know just how many things you can do with construction site stickers, it's time to start designing! Stomp offers a wide range of shapes and sizes suitable for hard hat stickers, and you can be sure they'll adhere to your hard hats, even in the most extreme conditions. 
Our online design tool is easy to use, and our turnaround times are among the fastest in the industry. With just a few clicks, your hard hat stickers will be on their way in no time — and you can look forward to creating a safer job site. 
Other types of visual signage, such as floor decals or construction banners, enhance site safety further by providing warnings, traffic directions, and first-aid directives. OSHA requires many signs to satisfy health and safety standards and there's always more you can do to go above and beyond. By using visual signage, including hard hat stickers, you can help make your job site safer for everyone involved.